Software applications are critical to any travel company's offering, affecting brand and reputation as well as internal operations.  Effective software testing is essential ensure reliable quality, performance, and security for these applications.
Open Destinations has years of experience in software testing for travel companies.  Our experienced team uses proven methodologies and state of the art tools to support your software testing requirements.
Our solutions are customised and cost-effective, taking the hassle out of software testing, allowing you to focus on your business.
Benefits of using ODL Testing Solutions
Access to experienced software testing and quality assurance professionals
Our solutions are flexible and customised to meet your specific testing requirements
Online reporting and real time visibility of progress gives you control of testing process
We use state of the art tools for test automation, workflow and defect management
We offer dedicated, motivated resources with excellent English language communication
Quality testing leads to a better product, more effective software
Free up the bandwidth of your staff
Cost savings
Travel Outsourcing services
ODL Offering
Whether you require an end to end integrated quality assurance solution or simply additional resources to support an ongoing software testing processes, ODL will develop a customised service to meet your needs
Testing Service
ODL Offering
Design
·         Design customer specific QA processes

·         Prepare customer specific test plans

Functional Testing
·         Manual Testing

·         Automated Testing

Non Functional Testing
·         Performance Testing

·         Usability Testing

·         Security Testing

Specialised Testing Solutions
·         UX / UI testing

·         API Integration testing

·         Mobile testing, Compatibility across devices
Our Methodology
We have refined our methodology over 20 years of developing and releasing software.  Our objective is to bring quality and visibility to the testing process: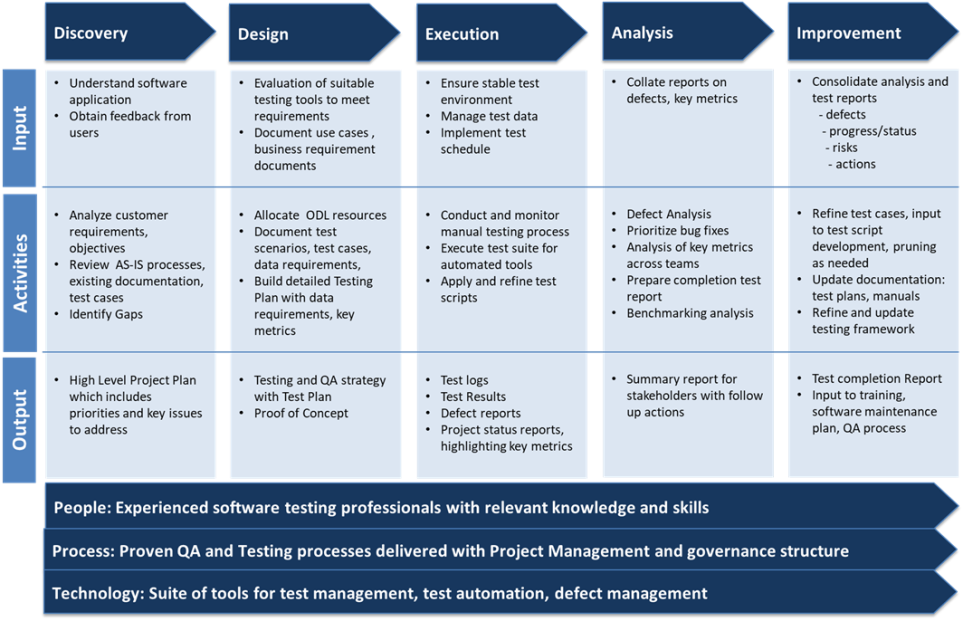 Engaging our Testing Service
We will tailor the approach, inputs, activities and deliverables to meet the requirements of each customer engagement.  The range of engagement models and associated activities are summarised as follows:
Engagement Model
ODL Activities
Consulting / Advisory
·         Review of existing testing /QA process

·         Design Testing / QA Processes Improvements

·         Develop test plans

Augment your team
·         Additional resources to support specific task or testing project

·         Focus on Manual and/or Automated testing

·         Specialised testing team (non-functional)

·         Work as an extension of internal resources

Integrated Testing Solution
·         End to end testing solution

·         Discovery and Design support

·         Execution of test plans – can work alongside an existing testing team or independently

·         Design and implement ongoing improvements in Testing across multiple projects